Welcome to Zeigler Geologic Consulting, LLC.:
Complete geologic services for New Mexico's rural communities

Welcome to Zeigler Geologic Consulting, providing geologic services for New Mexico and portions of Arizona and Utah. ZGC was incorporated in February of 2009 and offers a range of services including (but not limited to) paleomagnetic analyses, geologic mapping, provenance analysis of archeological materials, stratigraphic analysis, etc. All paleomagnetic analyses are conducted at the New Mexico Highlands University Paleomagnetism Laboratory. For hydrogeologic projects, ZGC is pleased to collaborate with the scientists at the New Mexico Bureau of Geology and Mineral Resources.
Announcements!
ZGC is partnering with SRI (
http://www.sricrm.com/)
for an amazing geoarcheology effort in southeastern New Mexico. We thank the Bureau of Land Management for the opportunity and funding for this project.
ZGC is pleased to announce that the Northeast Soil and Water Conservation District has received Capital Outlay funds to continue the Union County Hydrogeology project.
ZGC has enjoyed collaborating with Price-Gregory and Sunland construction crews during paleontological monitoring work on Enterprise's Mid-American Pipeline Western Expansion Project!
We have very much enjoyed meeting the community members of Harding, Colfax, and Mora counties. We look forward to working with them in the future!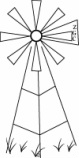 Additional Links:
New Mexico Geological Society:
nmgs.nmt.edu/
Petrified Forest National Park:
http://www.nps.gov/pefo/index.htm
Solid Earth: A New Earth Sciences On-Line Journal
Don't have a home for a manuscript on a topic in the geosciences (incl. paleontology and archeology)? Please consider the new journal Solid Earth as a potential venue! For more information, please visit Solid Earth's website, or contact me for more information:
http://www.solid-earth.net/