Zeigler Geologic Consulting, LLC: Complete geologic services for New Mexico's rural communities

Welcome to Zeigler Geologic Consulting, providing geologic services for New Mexico and portions of Arizona and Utah. ZGC was incorporated in February of 2009 and offers a range of services including (but not limited to) paleontological resource management, hydrogeology/aquifer mapping, geologic mapping, provenance analysis of archeological materials and stratigraphic analysis.
Announcements!
ZGC now offers custom groundwater resource plans for ranches and farms. We'll design a three to five year water level monitoring program that syncs with your crop and/or herd management plans. A custom groundwater plan includes water level measurements, radiocarbon/tritium dating, water chemistry, stable isotopes and geologic mapping designed specifically to help you know your groundwater resources. ZGC works to incorporate geoscience into rangeland management for better agricultural production.
We'd also like to give a shout-out to our partner, the High Plains Grasslands Alliance, a group of dedicated land owners and scientists working towards a better future in rangeland health. Please visit their website for more information:
http://www.highplainsalliance.org/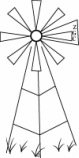 Clients:
Western Refining
Legacy Land & Environmental Solutions, LLC, Roswell, NM
Northland Research, Tempe, AZ
Tierra ROW Services, Tucson, AZ
Moore Hydrology, Albuquerque, NM
Ecosphere, Durango, CO
Organic Technology International, Albuquerque, NM
Northeast Soil and Water Conservation District, Union County, NM
Mora-Wagon Mound Soil and Water Conservation District, Mora County, NM
Souder, Miller & Associates, Albuquerque, NM
New Mexico Bureau of Geology and Mineral Resources, Socorro, NM:
Read & Stevens, Roswell, NM
Office of Contract Archeology, University of New Mexico, Albuquerque:
New Mexico Land Conservancy, Santa Fe, NM:
Statistical Research, Inc.

Looking for a book-keeping accountant familiar with the ins and outs of federal and NM tax laws? We highly recommend Desert Accounting, LLC - they specialize in small businesses and are based in Bernalillo:
http://www.desertaccounting.net/