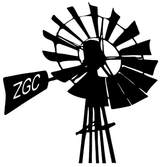 Zeigler Geologic Consulting, LLC: Complete geologic services for the Western High Plains
Welcome to Zeigler Geologic Consulting, providing geologic services for New Mexico, eastern Colorado and western Oklahoma. ZGC was incorporated in February of 2009 and offers a range of services including (but not limited to) paleontological resource management, hydrogeology/aquifer mapping, geologic mapping, provenance analysis of archaeological materials and stratigraphic analysis.

Announcements!

Time has flown! We're proud to say we've now been an incorporated company for 10 years. Thank you for being our partners in all that we do. We're proud to continue to serve the people of New Mexico.
​
What do we do?
Groundwater resource management: ZGC offers custom groundwater resource plans for ranches and farms. We'll design a three to five year water level monitoring program that syncs with your crop and/or herd management plans. A custom groundwater plan includes water level measurements, radiocarbon/tritium dating, water chemistry, stable isotopes and geologic mapping designed specifically to help you know your groundwater resources. ZGC works to incorporate geoscience into range and crop management for better agricultural production and resiliency in our rural communities.

Paleontology resource management: Do you have a construction ROW that will cross BLM-administered lands and/or is a federal action? Be alert for the possibility that your ROW may be subject to survey and monitoring for fossil resources! ZGC carries both New Mexico and Colorado state-wide BLM permit and can provide desktop and pedestrian surveys, as well as on-site monitoring and mitigation for fossil material.

Permian Basin subsurface stratigraphy: We work with oil, gas and saltwater disposal operators to develop information regarding various injection zones in the Delaware Basin. We'll craft cross-sections, isopach maps and other items needs to accompany well permit paperwork and/or for hearings before the OCD.
Clients:
NGL Water Solutions
Mesquite SWD
Western Refining
El Paso Electric
Northeast Soil & Water Conservation District, Union County, NM
Mora-Wagon Mound Soil & Water Conservation District, Mora County, NM
Colfax Soil & Water Conservation District, Colfax County, NM
Mosca-Hooper Conservation District, Alamosa, CO
Branson-Trinchera Conservation District, Las Animas County, CO
Spanish Peaks-Purgatoire River Conservation District, Las Animas County, CO
Ute Creek Soil & Water Conservation District, Harding County, NM
Mesa Soil & Water Conservation District, Harding County
Souder, Miller & Associates, Albuquerque, NM
Trust for Public Land, Santa Fe, NM
New Mexico Land Conservancy, Santa Fe, NM
SWCA, Albuquerque, NM
​Ecosphere, Durango, CO
(among many others!)
​We'd also like to give a shout-out to our partner, the High Plains Grasslands Alliance, a group of dedicated land owners and scientists working towards a better future in rangeland health. Please visit their website for more information:
http://www.highplainsalliance.org/
Looking for a book-keeping accountant familiar with the ins and outs of federal and NM tax laws? We highly recommend Desert Accounting, LLC - they specialize in small businesses and are based in Bernalillo:
http://www.desertaccounting.net/